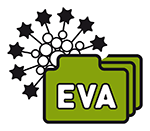 European Vegetation Archive (EVA)
The European Vegetation Archive (EVA) is an initiative of the European Vegetation Survey Working Group aimed at establishing and maintenance of a single data repository of vegetation-plot observations (i.e. records of plant taxon co-occurrence at particular sites, also called phytosociological relevés) from Europe and adjacent areas and to facilitate the use of these data for non-commercial purposes, mainly academic research and applications in nature conservation and ecological restoration. The initiative follows the EVA Data Property and Governance Rules. EVA also includes ReSurveyEurope, a European database of repeated records from the same plots. EVA closely cooperates with the Global Index of Vegetation-Plot Databases (GIVD), the Global Vegetation Database (sPlot), the Plant Trait Database (TRY) and the Euro+Med PlantBase (Euro+Med).
As of 2023, each version of EVA (incl. ReSurveyEurope) and each selection for EVA projects is assigned a DOI.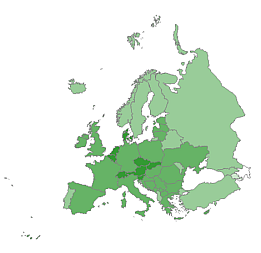 Number of vegetation plots included in EVA per unit area
European Vegetation Archive 2020-05-05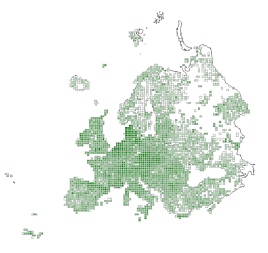 Number of vegetation plots included in EVA per 50 x 50 km
European Vegetation Archive 2021-05-05
Recommended citation of EVA: Chytrý M., Hennekens S.M., Jiménez-Alfaro B., Knollová I., Dengler J., Jansen F., Landucci F., Schaminée J.H.J., Aćić S., Agrillo E., Ambarlı D., Angelini P., Apostolova I., Attorre F., Berg C., Bergmeier E., Biurrun I., Botta-Dukát Z., Brisse H., Campos J.A., Carlón L., Čarni A., Casella L., Csiky J., Ćušterevska R., Dajić Stevanović Z., Danihelka J., De Bie E., de Ruffray P., De Sanctis M., Dickoré W.B., Dimopoulos P., Dubyna D., Dziuba T., Ejrnæs R., Ermakov N., Ewald J., Fanelli G., Fernández-González F., FitzPatrick Ú., Font X., García-Mijangos I., Gavilán R.G., Golub V., Guarino R., Haveman R., Indreica A., Işık Gürsoy D., Jandt U., Janssen J.A.M., Jiroušek M., Kącki Z., Kavgacı A., Kleikamp M., Kolomiychuk V., Krstivojević Ćuk M., Krstonošić D., Kuzemko A., Lenoir J., Lysenko T., Marcenò C., Martynenko V., Michalcová D., Moeslund J.E., Onyshchenko V., Pedashenko H., Pérez-Haase A., Peterka T., Prokhorov V., Rašomavičius V., Rodríguez-Rojo M.P., Rodwell J.S., Rogova T., Ruprecht E., Rūsiņa S., Seidler G., Šibík J., Šilc U., Škvorc Ž., Sopotlieva D., Stančić Z., Svenning J.-C., Swacha G., Tsiripidis I., Turtureanu P.D., Uğurlu E., Uogintas D., Valachovič M., Vashenyak Y., Vassilev K., Venanzoni R., Virtanen R., Weekes L., Willner W., Wohlgemuth T. & Yamalov S. 2016. European Vegetation Archive (EVA): an integrated database of European vegetation plots. Applied Vegetation Science 19: 173–180. - https://doi.org/10.1111/avsc.12191