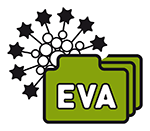 How To Obtain Data
To obtain data from EVA, please first read EVA Data Property and Governance Rules, Article 5. If you are eligible to obtain data, make an enquiry to the EVA database administrator Ilona Knollová (ikuzel@sci.muni.cz) whether the data meeting your needs are available. If they are, fill in the EVA Data Request Form and submit it to Milan Chytrý (chytry@sci.muni.cz) or another member of the EVA Coordinating Board. Note that the data under restricted-access or semi-restricted access regime (see below in the list of databases) are only available to EVA data contributors. If you ask for data under these two access-regimes, the processing of your request will take at least three weeks.
If you plan to combine your analysis of vegetation-plot data with plant trait data, you can also request for a dataset of 18 gap-filled traits for a large number of plant taxa prepared by the TRY consortium. These traits include Leaf area, Specific leaf area, Leaf fresh mass, Leaf dry matter content, Leaf C, Leaf N, Leaf P, Leaf N per area, Leaf N:P ratio, Leaf delta15N, Seed mass, Seed length, Seed number per reproductive unit, Dispersal unit length, Plant height, Stem specific density, Stem conduit density, and Conduit element length. This dataset can be provided to you upon request by Ilona Knollová (ikuzel@sci.muni.cz). If you use this dataset, you must inform about your project the TRY data contributors who might be interested and invite them as potential co-authors, assuming they will make an intellectual contribution to your paper. Any such paper will be treated as a joint paper of EVA and TRY consortia. The list of the TRY data contributors will be sent to you together with the gap-filled trait dataset.
If you plan to include species phylogeny in your analyses, you can obtain a phylogenetic data for a large number of species from the sPlot consortium.